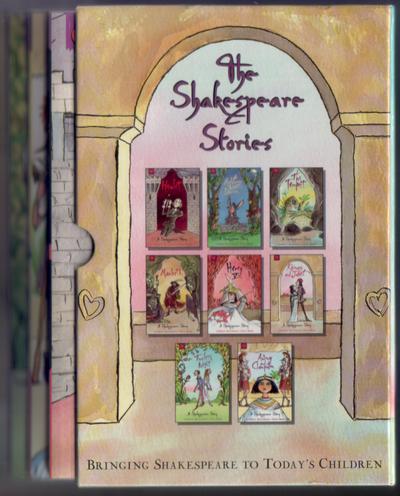 The Shakespeare Stories
By
Andrew Matthews
Illustrations by
Tony Ross
ISBN: 1843628775.
Reprint, published by Ted Smart in 2003.
Paperback.
Octavo.
Pictorial covers.
Boxed set of eight books.
Stories retold in prose from the plays by Shakespeare and including simple notes.
Titles are:
"Hamlet",
"A Midsummer Night's Dream",
"The Tempest",
"Macbeth",
"Henry V",
"Romeo and Juliet",
"Twelfth Night", and
"Anthony and Cleopatra".
Almost no wear to either box or books.
Fine condition.
(Post 1940)
Catalogue Number: #101931
Price: £15.00
Copyright © 2018 The Children's Bookshop
Toll Cottage, Pontvaen, Hay on Wye, HR3 5EW
01497 821083 (+44 1497 821083)