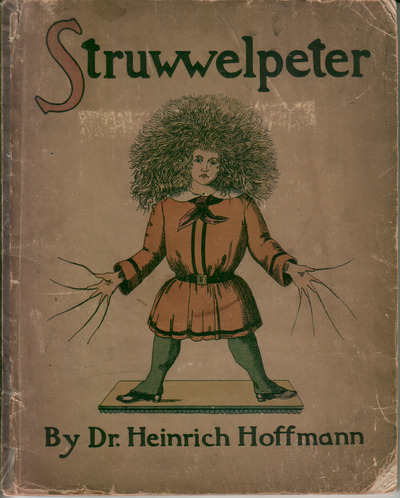 The English Struwwelpeter, or Pretty Stories and Funny Pictures for Little Children
By
Heinrich Hoffmann
Illustrations by
Heinrich Hoffmann
Reprint, published by George Routledge circa 1920.
Translated from the German.
Paperback.
24mo.
Cream covers.
Black lettering on covers.
24 pages.
Covers worn and generally in poor condition.
Colour has darkened to uniform grey.
Upper and lower corners damaged, with some loss.
Contents clean, with no foxing, scribble or finger-marking.
Reading condition.
(Illustrated, German, Humour, Verse)
Catalogue Number: #107445
Price: £5.00
Sorry - This book has already been sold.
Copyright © 2020 The Children's Bookshop
Toll Cottage, Pontvaen, Hay on Wye, HR3 5EW
01497 821083 (+44 1497 821083)